One of the greatest benefits of getting into real estate is that YOU are in control of your financial future and for most, that's a far better option than a future that's decided by corporate politics.
Though each investor's pace and progression will be a very personal journey, we all have one thing in common: we need to get our first deal over with.
Some newcomers, however, are having a hard time breaking out of their shell.  If you've been stuck in "learning mode" or "newbie zone" it might be because you are not putting yourself in the path of  "deal traffic."
You'll always be a Newbie without a First Deal
One investor might spend a year in the newbie zone because they have yet to buy anything, while another investor might be a newbie for just 2 short months because they purchased 2, 3,5 properties quickly.
One thing is for certain:  It is impossible to leave the newbie zone without having earned an income from real estate related activities.   So whether you've just decided to become a real estate investor or you've been stuck in the newbie zone for a while, let's get to it with some advice for Newbie Real Estate Investors.
This advice is absolutely meant to prepare you and physically place you into the path of oncoming Real Estate deal traffic.
Advice for New Real Estate Investors
Combine Your Obsession of Learning with Income Activities
Newbies, you have a tendency to spend the entire day, maybe even an entire week…okay some of you have spent the last YEAR listening to podcasts after podcast or audio book after audio book from the comfort of your bed, couch or makeshift office.
Your number one goal going forward:  No more audio books or podcasts unless you're driving in your car scouting neighborhoods, knocking on doors, driving for dollars, taking pictures, writing down addresses, or evaluating upcoming auction property.   The only way you get to listen to a latest podcast or audio book is if you're driving around, actually performing a real estate investor related activity.
This one little piece of advice may be the tipping point for you to get your first deal.
Establish Your Realtor
The time to secure a Realtor is BEFORE you need them. Imagine your Newbie self, driving for dollars (listening to your favorite audio book about passive income) when you suddenly come upon a weathered, for sale sign with a label "Handyman Special".
Maybe you'll be brave and call the number on the sign and the first question is "do you have a Realtor?"  To which you reply "No", and then comes question #2 "are you pre-qualified?"
Seriously, long gone are the days where an agent drops everything to show their listing to a cold-calling, non-qualified stranger.  Going through the listing agent is not going to serve you well.
As a Real Estate Investor, you DO need your own Buyer's Agent/Realtor.  They will be your #1 source for automated MLS leads in your email on a daily basis.  They will also get you inside properties when you ask because selling property is how they make money.
While you're in the early stages of being a Newbie, make sure your Real Estate agent knows your plan.  If you don't have an agent it's okay, not everyone has a sibling or cousin or a friend who's a Realtor, so make a plan to meet with a few Realtors and pick one that you gel with.  If you have no idea how to do obtain your own agent, you can invest in learning how with this ebook.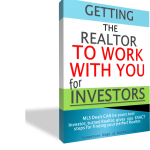 .
Establish Your Property Insurer
Whether you're flipping or becoming a landlord, you will need property insurance.  NOW is the time to learn which companies will be easy to work with and which ones will make you lose your mind.  I know what you're thinking….'but I don't have any property to insure'. 
I know, but it doesn't matter.  You're not going to insure property, but you're going to get ready to insure and in doing so, you'll learn which companies will work with you for flipping and which will work better for rentals.  Believe me, these are not "little details" that can be left to the last minute when you actually have a property.
Here is what to do…Do this all in one morning, no need to spread it out as it's only about 1 hour of your time.   Start at 9:00am and be done at 10am.
Pick 3 insurance companies in your area and get ready to call them one right after the next.  Introduce yourself and tell them you've got a property you're considering purchasing and you'd like a rough idea of what the insurance premium will be so you can "run more accurate numbers as a rental or a flip"   I don't know exactly what you'll be asked in your specific area, but where I live, an insurance agent would ask the address, the age of the building, number of bedrooms, bathrooms, so make sure you use a property that you know the answers to.
Some insurers will give you a quote over the phone and others might ask to call you back or send you an email quote.  There are two goals here.  One, is to be able to identify which company you'll be using when you actually get your first deal, and two, you will actually have an accurate idea of insurance costs.  Having accurate estimates makes you more confident in the buying process…which might be what you're missing.
Clean Your Credit
Pull your report and look at it.  Sure, you can invest in real estate with horrible credit, but you will do so at a disadvantage.  If you lack credit, get credit cards right now, buy small items and pay the balance off every month.  It doesn't take long to build good credit from no credit.
 A score of 720 or higher opens doors for funding as you grow, but it takes time to correct and you'll thank me later if you start now.
And finally,
Get in Front of People who are Actually Investing
Trust me, there is no secret sauce for investing in real estate…you just don't know how to do it.
If you can surround yourself with people who are doing it successfully, you can simply mirror their actions and you'll probably achieve success.
Most areas have a local meetup where investors go to grab a drink or bite to eat and talk real estate.  Some are structured, some are casual but mostly all are very inclusive and welcome new comers.  Here, you'll meet people who are living your dream and you'll get to ask questions.
My best advice to newbies who are really having trouble taking action it to offer up your most valuable skills for free.  For instance, do you have web designing skills?  Are you an accountant or bookkeeper? Are you a roofer, tile installer, landscaper?   Were you a baker?  What are you?
I am certain that you do something better than everyone else in that meeting.  Offer it up as collateral in exchange for being able to tag along on an investor's project.  Maybe not the 1st meeting, but definitely by the 2nd meeting you can announce to the group your desire to tag along on a project and in return, you'll….design a web landing page, install a floor, paint closets, bake cupcakes for their kids birthday etc.,  You will be surprised to see how well these offerings will be received.  Every investor loves free helpers or trading services.  So don't be shy.
To find locals in your area, try looking at craigslist or searching for investor groups in facebook.  They absolutely exist.
In closing, make sure you are spending time every day on activities that that will actually produce a deal.  Ask yourself "is this activity putting me in the path or Real Estate Deal Traffic?"
To your success!