Spring has sprung! And with the warmer weather comes a brand new set of expectations for both landlords and tenants.  Did you know that even though your tenants might be responsible for lawn care and proper garbage disposal, if they break the rules it is the property owner who receives the citation and must appear in court?  What's worse is that sometimes the citation is not mailed to the owner, but affixed to their front door leaving landlords completely unaware that a penalty is accruing against their property.
Whether you are new to the landlord business or a seasoned pro, a refresher in the city of Buffalo's most common code violations will be time well spent.  In addition to all things spring, let's review some year round ordinances which are more likely to be cited in the spring and summer months now that inspectors are out in full force.  After reviewing these common areas of violation, we'll discuss lease terms that make it clear to tenants that they are 100% responsible for keeping the property in compliance.
Without further adieu,  let's review the most common codes that tenants violate, leaving YOU, the landlord, on the hook.  All of these violations come with penalties ranging from $52.50 to $150.00 and involve a day in court if you plan on arguing.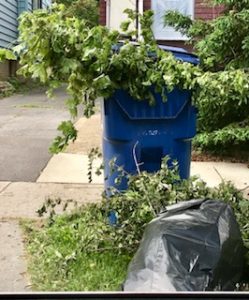 #1.  Garbage/Recycle Totes
There are so many ways to violate a code with the city supplied totes and these are year-round ordinances.  Here are some of the more common ones and their respective fines for violating:
Fine Class – $52.50 and up.
·         Garbage at curb too early (before 7pm on the eve of collection)
·         Failure to collect totes after they are emptied (8pm collection day).
·         Overflowing tote. (Lid must close)
·         Placing construction/demolition debris or fill in totes
Fine Class –  $105.00 and up
·         Tote exceeds allotted weight
·         Electronic Waste in tote
Surprised?  You might do one (or all) of these things every week and have never received a citation. Me too.  But, I have one property near the Mayor where these rules are strictly enforced. As annoying as it is, it's best to just comply with code and add a lease term to address the above (we'll get to this later).   It just takes one ornery neighbor to call 311 and complain and you'll be forever tagged as a problem property.  And do you know what's worse than coughing up $52.50 or $105.00 for a ridiculous reason?  Spending the entire day at city hall waiting to unsuccessfully plead not guilty.
I speak from experience when I tell you that it will be nearly impossible to win a plea of not guilty for any of these violations. Especially if your only defense is "everyone does it" or "I didn't know."
Of all the citations my tenants have caused (and I've received), the most popular by far is: Electronic Waste at curb or in Tote. Tenants are notorious for leaving appliances at the curb, especially when vacating. The city of Buffalo does not collect electronic waste and will fine property owners when they see it at the curb or in the tote and hiding it in trash bags won't help. The worst part is, you are left with the $105.00 fine AND the item.   As such, there are plenty of electronic waste drop-off events throughout the year and because if this, it is nearly impossible to overturn this citation.  Make sure your lease has specific language regarding electronic waste.
#2.  Upholstered furniture on open porches

Slightly less common than garbage tote problems but something tenants love to do is put an ugly upholstered chair or couch on a porch.  We are not talking about the outdoor style with plush cushions, but rather a real couch or chair clearly intended/marketed for indoor use. The reason that these pieces of furniture are not allowed on lawns or outside porches is because they help grow our city's rat population.  They are ideal nesting places and a big no-no.  What's the fine if caught?  $75.00 and up.
#3.  Failure to cut overgrown vegetation
And finally, let's talk about the mother of all citations…uncut grass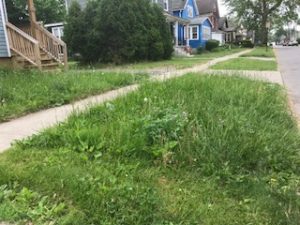 Compliance Quote:  It shall be the duty of every owner, occupant or person having charge of lands within the City to cut down or cause to be cut down all overgrown weeds, grass, brush and other vegetation and to remove or cause to be removed all garbage and tree limbs or other debris on said land each and every year between May 1 and June 1 and so often thereafter as necessary to maintain such land in a sanitary and orderly condition. Failure to comply?  Fine Class – $150
Yes, the fine for not cutting grass is a whopping $150.00!  I can tell you from personal experience; it does not have to be the entire lawn.  It can be a small patch a tenant (or I) decided to neglect or tall weeds that remain around furniture, foundations or fence posts because tenants don't think to weed-whack.
In my case, it was during the National Fuel re-meter event and I roped off half the lawn to try to keep people from walking on the grass seed.  The other half, I didn't mow and although it looked a bit long, I never thought it was TOO long to get a citation.  Well, a neighbor complained and BAM!…ticket!
Faced with a $150.00 fine I decided to fight the ticket by sending in a plea of not guilty. This was the only time I've been successful in having a citation overturned and it was only because of the National Fuel digging and reseeding effort. Plenty of people before me did not get their citation overturned.  I heard reasons such as "the grass was too wet to mow",  "my mower broke", "my lawn service didn't show"…all of these excuses went unforgiven, and I consider myself to have been extremely lucky that day.
Bottom line is this:  If you own property in the city of Buffalo, it is inevitable that you or your tenants will someday encounter a citation. In most cases, owners do receive a copy of the citation in the mail, but not always. When this happens, I call my tenant and ask if they've paid the fine and returned my property to "good standing" with the city and then follow up as needed.
Early in my land lording days, I did not have these situations addressed in my lease; now I do.  It is clear to my tenants that I will not be footing the bill for their "mistakes" or "forgetfulness" and when they know they are responsible, these citations become a very rare occurrence.  In fact, I haven't had an issue for over 3 years (knock on wood).  And that is the real Investors Edge!
Here are some examples of good lease term to adopt for all of your city of Buffalo properties:
GARBAGE – Tenant is responsible for placing garbage bins and/or recycling out for collection every week and must do so in a clean and sanitary manner no earlier than 7pm. Lids must close.  Tenant must return bins to the backyard the same day they are emptied.
TENANT agrees to keep totes in good condition and not to use them for any other purpose such as construction or yard debris.  Throughout tenancy and when vacating PREMISES, Tenant must not violate local laws regarding maximum trash allotment and may not dispose of hazardous materials such as T.V's and other electronics.
If Tenants causes a fine against the property, Tenant must pay the fine immediately.  Complete list of Local Laws can be found on THE CITY OF BUFFALO WEBSITE or you can call 311 with your questions.
Cleanliness – Tenant shall keep the area in and around rented premises free of trash, garbage, cigarette butts, animal waste and general clutter. Upholstered furniture intended for inside use may not be used as lawn or patio furniture.
Seasonal Maintenance – If a tenant fails to comply with grass & weed height/snow removal regulations, any and all local fines or citations are billed to the tenant as added rent.
These are just suggestions…..you get the picture.  Make them fit your lease and then send them to your attorney for approval.
For more information on fines and code, visit the City of Buffalo's website @ http://www.buffalony.gov/
Investors Edge of Buffalo
Next Post – Buffalo's Upcoming Auction Season! – Like/Follow so you don't miss its publication.
Related Education
Looking for more lease terms?
About Investors Edge of Buffalo:  Investors Edge of Buffalo operates on the premise of providing AD FREE content to people who have an interest investing in or near Buffalo, NY.   All tips, posts, articles are free and you won't be annoyed by ads and popups! If you happen to be interested in investor education, we offer category specific training tutorials  for an extremely reasonable investment. If  you're just interested in staying informed,  we  welcome you and hope you enjoy this ad free content.  Whatever brings you here, if you like our information, we encourage you to follow us on Facebook AND Subscribe to our quarterly Bulletin.   All content is created by a seasoned, full-time Investor and NY State Licensed sales agent, proficient in all aspects of flipping and rental acquisitions and the management of each.