The High of Winning
Whether it's in a packed room for the  Erie County Foreclosure Auction or the cold hallways of city hall, there is nothing quite like getting a property sold to my bidder paddle.
And there is a lot be be exited about!   Flips that make $30,000-$60,000 are plentiful.  Rentals in good areas put $500/month in the bank.  There is no denying that our properties purchased at auction have been amazing performers…and it's why we became specialists.
Knowledge is Power
The number #1 question we get asked (even by friends and family) is "aren't auctions too risky?" To that my reply is "Yes; unless you know what you're doing."
I will be the first to tell you that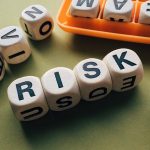 real estate foreclosure auctions  are very risky endeavors for the uninformed investor.  I've witnessed investors bidding on property that was not being sold Free & Clear.  Every year after auction, I can check craigslist ads for investors trying to dump properties for less than they paid.
The Fact is: If you bid at auctions uninformed and unprepared, you risk losing a lot of money.
Reducing The Risks
The best way to reduce risk is to understand what you're really buying as the successful bidder.  Are you buying a property free and clear, or will it have other liens to satisfy?  Is the foreclosing lender in 1st position? Can you resell the property if it has other liens?  The list goes on.
In order to know exactly what you're buying, you'll need to LEARN the two types of foreclosures.  If you knew, for instance, that a property could be taken from you by the USA, would that change your bid price?  Would it change your rehab schedule?  It Should!
There are many pitfalls, many risks, many ways to fail.  This training will expose those pitfalls, mitigate those risks and set you up for success.
What You'll Learn
The training focuses on the two difference types of foreclosure auctions:
Annual Tax Foreclosure Auctions – This includes auctions such as: Erie County Foreclosure Auction and The Buffalo Tax Auction.
Daily Mortgage Foreclosure Auctions in Erie County – conducted by referees in government buildings.
I am going to teach you  the difference between the two types of foreclosure auctions and the greatest risks when bidding at each. You'll learn about liens, super liens, subject-to terms and rights to redemption.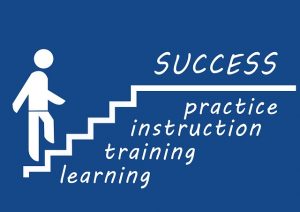 I'll teach you how to spot title issues and how to protect yourself against huge financial loss at both types of auctions.
We're take a sample property through both a tax foreclosure auction and a mortgage foreclosure auction so that you really can see, first hand, the different risks associated.  And as you learn, I'm going to show you exactly how to find these (often under advertised) gems all across Western NY.
Experience Matters
I've been attending these auctions since 2008 and by the end of this training, you will have learned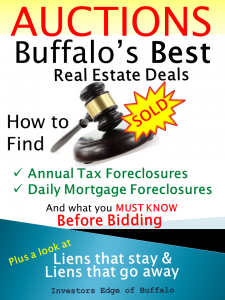 key information that took me years to learn.  I, myself, have gotten excited about a property, only to find out that it came with EXPENSIVE problems or lack of full ownership rights.  Lucky for me, I didn't bid – but an uninformed investor did.
Don't let that uninformed investor be you!

Auctions are where the great properties are hiding!  If you've always wanted to learn about how to win and stay safe at the Erie County Foreclosure Auction, Buffalo Tax Auction or Mortgage Foreclosure Auctions the answers are waiting for you.